Corporate social responsibility
1 – Business model
2 – Sustainable Development Goals
3 – Responsibilities to our operational stakeholders
4 – Responsibilities toward staff
5 – Respecting the environment and social responsibility
6 – Non‑financial indicators
Interparfums Group applies a comprehensive approach in addressing the issues of corporate, environmental and social responsibility and transparency.
The Group has developed from one year to the next its corporate social responsibility (CSR) policy, implemented by its Operational and Support Departments by involving all personnel, and has identified issues to be addressed in three key areas: its responsibilities toward operational stakeholders, staff and the company.
Social and societal values have been an important component of Interparfums' development for a number of years, exemplified notably by an attractive policy of employee benefits and solid relations with its partners.
At the environmental level, the company does not have its own manufacturing base, having chosen until now to support its industrial partners by placing an emphasis on quality, the use of good manufacturing practices and innovation. The construction of a HQE (Haute Qualité Environnementale) high quality environmental certified warehouse in 2011 and sourcing in Europe more than 80% of its needs highlight the efforts undertaken in recent years.
Today, reflecting the stakes in terms of protecting the planet, Interparfums now intends to also exercise an increasingly active role in contributing to the environment.
To s upport t his a pproach, at t he b eginning of t he year and at the initiative of Executive Management, it created an Executive CSR Committee, consisting of members of the Operations & Supply Chain, Human Resources, Legal Affairs and Communications teams, tasked with formalizing the company's CRS strategy focusing on the following priorities:
reinforce its status as a responsible employer, by notably creating a "Responsible Employer Charter" and strengthening the employee training plan;
reduce its environmental footprint, notably by adopting environmentally optimized design specifications to reduce packaging and the introduction of recycled and recyclable materials for each product developed;
strengthen its sustainable development approach by formalizing a code of business conduct and ethics that is enforceable against operational stakeholders.
The launch of a first low environmental impact line for the Rochas brand marks the first stone of this new edifice…
1 – Business model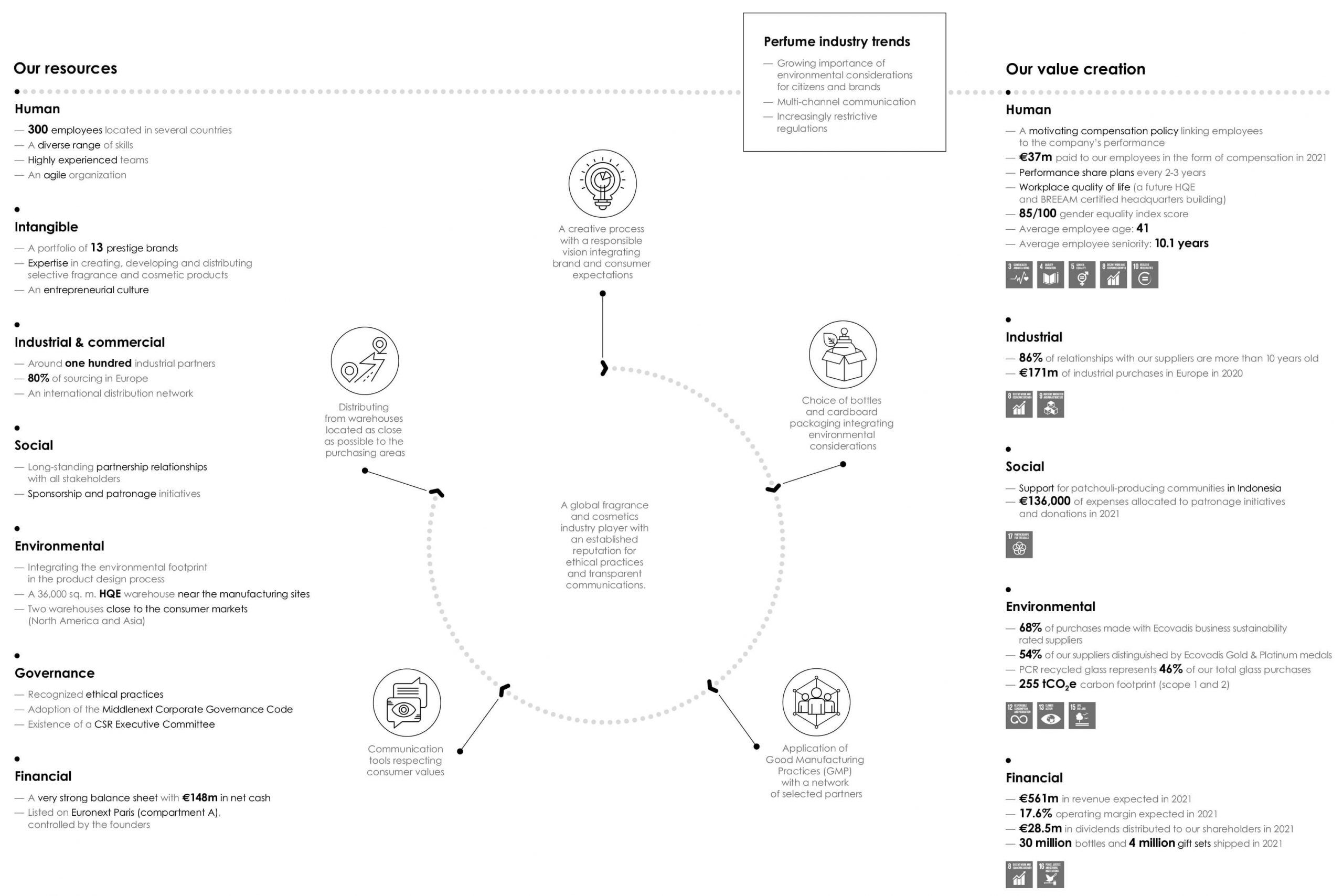 2 – Sustainable Development Goals
In line with the Group's Corporate Social Responsibility strategy, the main goals set by the Group are presented in the following table.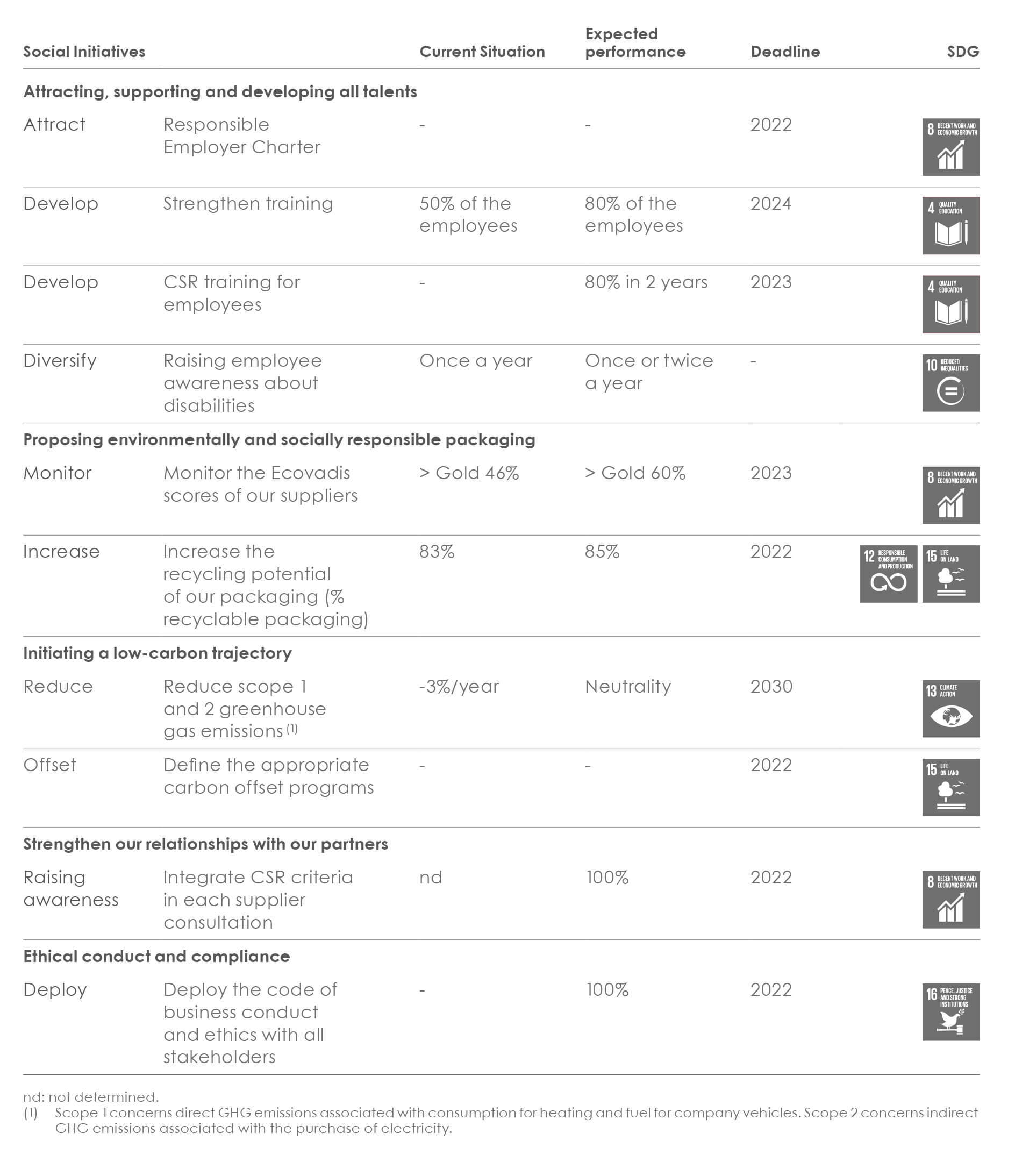 3 – Responsibilities to our operational stakeholders
For the conduct of its operations and the development of its activities, Interparfums has identified the following priorities:
maintaining relations of high level with its licensors based on synergies, mutual commitment and the sharing of common values;
developing long‑term partnerships with its suppliers and subcontractors by closely collaborating in exchanging information;
developing lasting relations and trust with our distributor customers.
3.1. Relations with licensors
Since signing its first license agreement in 1988, Interparfums has developed a large portfolio of luxury brands under license. Contacts with these companies are systematically initiated by the historic managers who have developed and maintain close relations with the licensors of these brands. These unique and privileged relations are built by developing an understanding of their universe and proposals for products which fully respect the unique codes of each brand.
Through close collaboration between the marketing departments and the brands which has increased over the years, the products are developed according to the desires and collections of each brand in order to propose a fragrance both unique and at the same time embodying common values.
Smaller agile teams and regular and privileged contacts foster the development of a perfect knowledge of the universe, maintained over the years, in order to propose the brands high quality products that support their image.
3.2. Long‑term relationships with industrial partners
3.2.1. Sharing information and relations of trust with industrial partners
The Group maintains long‑term relationships of quality and trust with most of its suppliers, subcontractors and other vendors. These partners are indispensable for the Group to ensure its sourcing requirements for raw materials, packing and packaging activities and promotional items. Reflecting its requirements for quality and performance, the selection process
and conduct of relations with partners is a critical issue for the Group.
In addition to collaboration relating to cost controls, quality, and innovation, the Group is committed to developing lasting and responsible partnerships in the areas of employment and the environment.
The company has implemented guidelines on purchasing, logistics and Good Manufacturing Practices (GMP) in addition to a supplier gateway.
In addition, the company has adopted a code of business conduct and ethics that will be applicable to its partners designed to ensure that they respect the rules of ethics, morality and law in line with the company's commitments.
To this purpose, the Group has deployed a web‑based system for exchanging information reserved for suppliers (see below "the portal"). Through this system integrates the exchange of supply plans, issue orders and confirm their receipt. Most suppliers are equipped with this communication tool.
The supplier specifications, the portal and the code of ethical business conduct form the basis of the company's engagements for promoting close and constructive collaboration with suppliers and partners.
Accordingly, the framework that the company has established for its actions carried out jointly with suppliers and subcontractors includes commitments for optimizing performance and smooth and transparent communications by using this supplier portal. This portal makes it possible to identify the needs of the company and suppliers, and taking appropriate measures to address these needs. The company supports its suppliers in their efforts to improve services if their contributions do not effectively meet expectations.
It was in this context that the company adopted supplier performance indicators, and in particular OTIF (On Time In Full) supplier performance metrics based on information collected from the portal. These indicators will provide a source of information about the ability of suppliers to adapt to current needs and evolve to respond to the company's future needs.
Through the specifications and the portal, the company and its suppliers work together in achieving a common objective that consists in particular in:
innovating by increasing quality, service and added value;
increasing the solidity of products, reducing the defects and the needs for after‑sales service;
identifying and developing new techniques for creating new products or for improving existing products.
The company has also adopted eight business review program with the participation of its suppliers. The purpose of this review is to produce a report on activity of the prior year and determine actions and the needs of each of the parties for the following year.
Within this collaborative framework, action plans have been established for the purpose of preventing situations of economic dependence of the company's partners. This vigilance is exercised in particular in the case of partners exposed to this risk as a result of their size and infrastructure. The company has adopted a procedure for identifying companies who might in time develop a risk of economic dependence with potential for jeopardizing their relation.
The company's vigilance is also assured through transparent communications about items enabling its partners to prevent this risk of dependency based on medium and long‑term visibility for its business forecasts, strategies for evolving and its needs in terms of innovation, allowing its suppliers to build their own strategy and develop their capacities for adaptation to meet the desired objectives.
In addition, for a number of years, the company has been focusing on ensuring the security of its sourcing for a certain number of critical components of our strategic lines. This has resulted in the duplication of our molds for bottles, caps and related items available from two different suppliers.
As applicable, the company may also consider disengaging in advance and in a gradual manner from the supplier concerned according to this situation of dependency. In general, as part of its policy of vigilance regarding the risk of economic dependency, the company invites its suppliers to regularly diversify their customer bases. Similarly, a supplier having developed an innovative technique giving it a monopoly may also expose the company to risk in terms of sourcing. This may result, by common agreement with its supplier, in identifying a second source of procurement.
3.2.2. By applying standards for Good Manufacturing Practices (GMP) with packing service providers
The ISO 22716 international standard for Good Manufacturing Practices establishes guidelines standard for the manufacturing, packaging, testing, storage, and transportation of cosmetic products. It represents the practical application of quality assurance concepts based on a description of plant manufacturing practices.
This standard has imposed an obligation on all packing companies since July 2013 to comply with the Good Manufacturing Practices. The other subcontractors such as glassmakers and suppliers of raw materials are not concerned by this standard.
The Group has identified the following benefits from this standard:
controlling potential risk factors affecting the quality of cosmetic products;
reducing the risk of confusion, deterioration, contamination and error;
greater vigilance by personnel in the performance of their activities;
the guarantee of quality products.
In this regulatory environment, regular audit campaigns are carried out of all packaging plants by the quality department based on the ISO 22716 standard in place. The ultimate purpose of these audits is to ensure that packaging service providers maintain a good level of traceability for their activities. All plant activities were reviewed: receiving process for raw materials and packaging materials, manufacturing, packaging and quality controls. These reports demonstrated that the Group's subcontractors comply with ISO 22716 Good Manufacturing Practices and in particular traceability requirements for all perfume production operations.
The primary missions of the Quality department are to:
consolidate the quality requirements and ensure their implementation by subcontractors and suppliers;
evaluation of the Quality performance of its subcontractors and suppliers;
strengthen and monitor quality for sourcing of production processes;
monitor audits of Good Manufacturing Practices;
supporting subcontractors in the industrialization of its products;
implement quality indicators;
monitor nonconformities and corrective measures taken by subcontractors and suppliers;
monitor customer complaints.
3.2.3. By consumer health and safety measures
As the Group assures the introduction of products on the market, it is responsible for assessing the safety of the cosmetic products it distributes. To this purpose, the Group conducts tests ensuring the innocuous nature for the skin and eyes. In compliance with Regulation (EC) No 1223/2009 on cosmetic products, no tests are conducted using animals. Tests for skin irritation are thus conducted on healthy voluntary adult subjects and ocular safety tests are performed through cell cultures.
The Group has also taken measures with respect to the European Community Regulation on chemicals and their safe use concerning the Registration, Evaluation, Authorization and Restriction of Chemical substances (EC Directive 1907‑2006 of December 18, 2006) or REACH with all its suppliers. Accordingly, all technical and organizational measures pursuant to the adoption of REACH have been implemented by the Group.
It is not itself subject to this registration requirement as a downstream user of such substances. However, it has nevertheless sought to maintain an active role by ensuring that the registration process proceeds effectively and that there exists a continuous supply for sourcing chemical substances contained in its products.
The Group took the initiative to contact its different subcontractors and suppliers to ensure they and those further down the supply chain effectively comply with registration, notification or authorization request procedures. Interparfums has thus asked all its suppliers to provide commitments that they will not supply articles containing substances listed in appendix XIV (Substances of Very High Concern). To date, no supplier has declared the presence in articles provided to Interparfums of substances subject to authorization.
3.2.4 By assessing the CSR performance of its suppliers
As part of its CSR strategy, Interparfums has partnered with EcoVadis to assess the CSR performance of its supply chain and suppliers.
Ecovadis operates a global platform to assess corporate social responsibility and share performance data using their assessment method based on international CSR standards.
In 2021, 85 suppliers were evaluated or were in the process of being evaluated, representing over 90% of Interparfums' procurement activity. As part of a continuous improvement process, Interparfums' objective will be to monitor and encourage the CSR performance of its suppliers in four major areas: the environment, social and human rights, ethics and responsible procurement.
3.3. Building relations of confidence with customers and distributors
Every continent, every region of the world has its own olfactory tastes, identity and culture but also its own sensibility and attachment to a brand, and there is thus no single destination.
Interparfums has developed long‑lasting relations with its distributors in each of the countries or regions where it operates. More than 60 employees deployed their expertise in France and in more than 100 countries in the service of the distribution of our fragrances.
Every two to three years, Interparfums organizes a seminar over several days for all its distributors from throughout t he world. This seminar provides an opportunity to present all the company's brands and products, meet with all distributors and involve them in the Group's development while giving the distributors an opportunity to meet with staff with whom they work closely on a daily basis.
4. Responsibilities toward staff
The Group's employees constitute its most important contributor to creating value. For that reason, their professional fulfillment and motivation are indispensable drivers for our development. In this context, the principal employment‑related challenges are:
developing a team spirit;
maintaining a high level of expertise;
ensuring equal opportunity employment;
gender equality;
promoting dialogue between employees and management;
the quality of working conditions;
preserving the health and safety of all;
maintaining a proper balance between professional and private life.
4.1. Management and a sense of belonging
With a family‑style management culture that is close to its employees, everyone is free to share their ideas in a manner that respects the company's values. Management attaches great importance to ensuring that each employee fully understands and supports the Group's strategy.
Through weekly memos and regular information meetings on business developments and trends, employees are kept up‑to‑date on expectations of management and the market. The organization's flexibility largely made up of small teams facilitates its continuous adaptation to all changes or evolving external conditions.
This sharing of the "Interparfums" spirit, also entails a commitment to and understanding of its ethical values by each employee, the fulfillment of employees at work and compliance with good working conditions.This ethical commitment is formalized by a "Code of Good Conduct" to which each employee subscribes, and that is focused in particular on health, safety, discipline, risk management, preventing harassment, respecting individual freedoms, sensitive transactions, fraud and business confidentiality.
In 2017, the Group adopted a Charter relating to the right to disconnect from digital devices that was accepted by each employee.
4.2. Equal opportunity and continually adapting skills
The Human Resources Department pays particular at tention to ensu r ing equal opportunit y and non‑discrimination for each recruitment. Only skills, experience, qualifications and the personality of the candidates are taken into account in the selection
process for new employees. T his d iversity in terms of profiles, culture, age and gender constitutes a decisive strength of its teams, the company's most important asset.
Women account for 72% of Interparfums' workforce and 52% of management positions are occupied by women in 2021.Since 2019, Interparfums has organized an annual disability awareness‑raising campaign. In 2021, employees were given an opportunity to participate role‑playing workshop designed to give them a first‑hand perspective of a person with a disability (hearing, visual, psychological, motor). Thanks to these opportunities for exchange, employees were able to talk about their all possible impediments and share their views and experiences.
Through these awareness‑raising campaigns and local support from the Human Resources teams, two employees were accorded the status of employees with disabilities through a specific procedure available in France for that purpose (Reconnaissance de la Qualité de Travailleur Handicapé or RQTH).
The company also participates indirectly in promoting the employment of persons with disabilities and combating exclusion discrimination. The company has chosen to use a sheltered work enterprise to package its perfume boxes and a global communications agency called "Les Papillons de Jour" to organize the European Week for the Employment of People with Disabilities (EWPD).
In 2021, the total cost for these services amounted to €974,094.
In addition, the Group has adopted action plans promoting the employment of seniors and equal opportunity between men and women.
The quality of work performed by the teams is reinforced throughout the career of employees in order to maintain their skills at a high level for all categories of functions. To this purpose, all Interparfums employees are offered individual employee development plans offering opportunities to all to expand their technical, managerial or personal skills.
For FY 2021, subjects covered by training included mainly workplace health and safety, office automation, language skills, business function‑specific training and employee development.
4.3. Management‑employee dialogue, health, safety and working conditions
For employees working in France and as required by law, elections to appoint members of employee representation bodies are held every four years. On that basis, the latest elections held in June 2019 led to the formation of a Social and Economic Committee comprised of four management employees including a contact person for issues relating to harassment. Destined to meet on a monthly basis, the Social and Economic Committee is informed and consulted on strategic and organizational issues having an impact on Group employees.
Following the implementation of the Social and Economic Committee (Comité Social et Economique or CSE), a French employee representation body, in June 2019, an "Occupational Health & Safety" committee was set up along the lines of the previous body, the Health, Safety and Working Conditions Committee. The committee made up of two non‑management employees normally meets once per quarter. An employee considered to possess particular qualifications in the area of health, safety and working conditions has been appointed internally. Several employees receive first aid training each year and health coordinators have also been appointed since the health crisis emerged in 2020.
In 2021, two commuting accidents were recorded, though without resulting in sick leave. No occupational accidents or illnesses were reported in the period. As Interparfums does not possess manufacturing sites, the risk of occupational accidents is minimized. Furthermore, the Group does not generate hazardous situations.
The employees, working mainly in the offices of the Paris headquarters, benefit from excellent conditions. The offices are calm and bright. In addition, the company pays is particularly sensitive about the importance of good posture in the workplace and the prevention of muscle‑skeletal and related risks. Itinerant employees are provided with quality company cars and computer equipment specifically adapted to their needs. Interparfums has also implemented a number of measures designed to good working conditions for employees and service providers, and in particular those working on a regular basis at our logistics warehouse: heating the warehouse at 11°C with the provision of specially adapted attire, individual dressing rooms and shower facilities, natural lighting, natural lighting, blank walls for persons working on foot, a dedicated and well‑kept meal area…
After drawing up a workplace map to measure job‑related duress, no positions were identified falling into this category.
Furthermore, for the prevention of psycho‑social risks, a platform providing counseling and psychological support has been available to employees through a special toll‑free number in partnership with a specialized organization (IAPR Institut d'Acccompagnement Permanent Psychologique et de Ressources).
4.4. Employment indicators
4.4.1. Compensation and wage increases
Interparfums has a compensation policy as well as a system of job classifications and performance evaluations applied to all employees. These procedures guarantee the principle of fairness as well as equal treatment of men and women employees. All employees benefit from a combination of fixed and variable incentive compensation benefits linked to the Group's performance.
Profit‑sharing
As required by French law, a statutory employee profit‑sharing agreement was implemented in 2001. In April 2015, this agreement was amended following the signature by employee representatives to provide by derogation more advantageous terms to employees, representing an important component of compensation and motivation for all staff and reviewed every year.
Company savings plan and group pension plan
All the company's employees benefit from a company savings plan which proposes several types of funds corresponding to the specific projects of each. Since 2017, it has adapted its scheme by proposing an Interparfums stock ownership fund allowing employees to take advantage of the growth of the Interparfums share under favorable tax conditions. The amounts employees pay into this fund are supplemented by an important contribution by the company.
In addition, a group retirement savings plan (Plan d'Epargne Retraite Collectif or PERCOL) is available to employees as a vehicle for preparing for their retirement and to which the company contributes significantly. Employees also can transfer a portion of their unused annual vacation days to the group retirement savings plan.
Supplemental defined contribution retirement plan contract (article 83)
Management employees benefit from a supplemental defined‑contribution retirement plan. Participation in this plan is mandatory. This individual plan is funded by monthly employee and company contributions, with the breakdown of these latter contributions freely determined. The company has decided to assist its employees in financing this supplemental retirement benefit, by assuming an important percentage of these contributions itself.
Employee share ownership/Restricted stock awards
In addition, to promote employee stock ownership, in September 2016 and then in December 2018 the company implemented two performance share plans for all employees for nearly 1% of the share capital.
4.4.2. Absenteeism
The absenteeism rate, a key indicator for measuring employee engagement and motivation, is very low: 2.47% in 2021 (3.66% in 2020). Adjusted to exclude maternity leave, the absenteeism rate is 1.23% (1.65% in 2020).
(French workforce reporting boundary only).
4.4.3. Staff organization and management
The strength of the Group's organizational model is based on teams with a human scale and the homogeneous breakdown in terms of ages and levels of responsibility which allows the Group to benefit from a wide mix of backgrounds and an extremely flexible organization.
Headcount by function/division
| | | |
| --- | --- | --- |
| Number of employees at | 12/31/2020 | 12/31/2021 |
| Executive Management | 5 | 5 |
| Production & Logistics | 45 | 49 |
| Marketing | 66 | 65 |
| Export | 71 | 76 |
| France | 42 | 40 |
| Finance & Corporate Affairs | 57 | 60 |
| Rochas fashion | 4 | 3 |
| Total | 290 | 298 |

Headcount by geographic region
| | | |
| --- | --- | --- |
| Number of employees at | 12/31/2020 | 12/31/2021 |
| France |                     213 |                     214 |
| North America |                       59 |                       65 |
| Asia |                       18 |                       19 |
| Total |                     290 |                     298 |

Effectifs by age
| | | |
| --- | --- | --- |
| Number of employees at | 12/31/2020 | 12/31/2021 |
| Less than 25 years |                         5 |                       12 |
| Between 25 and 35 years |                       99 |                       88 |
| Between 36 and 45 years |                       92 |                       95 |
| Between 46 and 55 years |                       64 |                       68 |
| > 55 years |                       30 |                       35 |
| Total |                     290 |                     298 |
The average age of employees is 41 (France).
Change in headcount (France)
The turnover rate in 2021 was 11.4%.
The average seniority of employees is 10.1 years (France).
5. Respecting the environment and social responsibility
Even though the Group does not directly manage industrial sites, it is nevertheless involved in developing an environmentally responsible strategy in partnership with its subcontractors and suppliers, focusing notably on the following areas:
the choice of techniques and materials;
recycling and waste elimination measures;
reducing CO2 emissions from transport.
It also intervenes in the civil society in the following areas:
developing the local economy;
relations with schools and educational establishments;
financing voluntary sector initiatives.
5.1. Production and the environment
The Group's headquarters is in the center of Paris. All Group staff are employed in countries with favorable labor legislation (France, the United States and Singapore) and which respect International Labor Organization (ILO) conventions.
The Group does not exercise and industrial activity and the entire production process is outsourced to manufacturing partners with optimal expertise and accountable leadership in their respective areas. These include producers of juice, glass, caps and
cardboard boxes and packaging companies. The Group takes environmental issues into account at each of these phases, and in particular regarding the choice of materials used for components, waste management and reducing the carbon footprint.
Production facilities of subcontractors as well as warehousing facilities for finished products are located primarily in the Haute Normandie region of France. The activity g enerated by Interparfums in this way contributes to developing the local economy.
At every stage of the purchasing process, the company seeks to determine the precise needs and considers the requirement of limiting sources of unnecessary costs and a waste of resources:
reducing waste, in particular at the phases of production, consumption and the end of the product life;
recycling flawed production, notably at the production phase;
repairing to increase the lifespan of materials or products (in particular the palettes).
5.1.1. The storage facility and the environmental footprint
The Group uses for its logistics needs an HQE (High Environmental Quality) certified warehouse. This certification concerns notably improved insulation, a lighting system with presence‑detectors, Ecolabel finishing materials, centralized technical management for energy controls, rainwater recovery, high‑performance waste separation collection installations, etc.
The company regularly monitors energy and water consumption indicators to assess possibilities for improving energy efficiencies in the area of lighting, heating and air‑conditioning for the entire warehousing site, for example by adjusting ventilation flows and using a program that reduces heating and ventilation over weekends.
With this objective, measures are planned to automatically turn off lights in the warehouse when employees are taking outside breaks and maintain the warehouse temperature at 11°. These energy savings initiatives include measures providing for managing the hours for reloading the electric forklifts during non‑peak hours during the night, requiring low consumption for a maximum of 280,000 kW instead of 600,000 kW during the day. Monthly reports on electricity consumption are prepared, allowing the company to analyze the causes for overconsumption, when applicable, in order to take corrective actions as applicable. The measurement of energy consumption highlighted stable levels for electricity and gas over the last four years, whereas water consumption has on average declined marginally. Finally, in the spirit of contributing to protecting the environment, the company has installed parking places at the logistic site for bicycles and electric recharging stations for cars.
By strategically located its warehouse at the crossroads for its subcontractors, the Group has reduced distances for shipments of finished products.
Measures undertaken in collaboration with the warehouse and trade goods shipping manager, within the framework of the improvement and optimization of shipments between production sites and the logistics platform have contributed to reducing the number of back‑and‑forth trips for trucks.
In the area of transport to distributors, the Group uses road transport for France and Europe and maritime transport for the Americas, Asia and the Middle East. Use of air transport is very limited and reserved only for urgent situations where no other solutions are available. Certain promotional materials manufactured in Asia are shipped directly to American distributors without being imported and stored in France.
In addition, in 2018 the group put into service a new warehouse located in Singapore to promote the use of short channels within the Asia Pacific region. This warehouse makes it possible to maintain a permanent inventory in this region and, in this way, encourages the use of maritime transport for goods shipped from France to Asia.
The carbon footprint has been calculated for scopes 1 and 2 for the years 2020 and 2021. Scope 1 concerns direct greenhouse gas emissions (gas and fuel consumption by company vehicles), and Scope 2 indirect emissions associated with energy (electricity consumption). The sites included for the calculation were the warehouse and the offices of the Paris headquarters.
| | | |
| --- | --- | --- |
| In tons eq CO2 | 2020 | 2021 |
| Scope 1 | 208 | 226 |
| Scope 2 | 25 | 29 |
| Total | 233 | 255 |
Changes between 2021 and 2020 reflect the impact of the lockdown periods in response to the pandemic for 2020. In 2022, the group will move its headquarters to HQE and BREEAM certified premises expected to represent a gain of approximately 30% in terms of energy consumption. In addition, use of renewable energies and the city of Paris' heating network will also improve this performance.
In 2021, scope 3 of the carbon footprint was addressed by assessing greenhouse gas emissions related to downstream shipping, i.e. the shipment of goods for which Interparfums is financially responsible.
This item represents 671 tons of CO2 equivalent breaking down as follows: 27% by maritime shipments, 32% by truck and 41% by air.
These initial assessments will allow us to initiate an action plan to optimize transportation flows.
All inbound freight between manufacturing partners and the warehouse will be quantified in 2022.
Measures to prevent environmental risks and pollution involve firstly the choice of techniques and materials.
To reduce the impacts of its activities, a water‑soluble solution in part biodegradable that does not harm the environment is used in the coloring of some of its bottles. For the remainder of the product lines, the coating process provides for the gradual elimination of solvent‑based coatings and the progressive adoption of hydro‑coating for all the company's products, in compliance with the law of 2005 for reducing emissions of Volatile Organic Compounds (VOC) in the air. In addition, certain sub‑contractors for glass making have electrostatic air filters to reduce dust and smoke emissions in addition to wastewater recycling.
The Group has in addition eliminated thermosetting plastics from its line of bath and body care products in favor of recyclable plastic.
To balance product quality and aesthetics with environmental considerations, the Group takes care to reduce packaging volumes and select the appropriate materials at each stage of production to ensure optimal conditions for their recycling or disposal.
The manufacture of recyclable glass bottles includes a system for the recovery, crushing and remolding the waste. Indicators in place since 2013 for tracking wastage have improved the Group's ability to monitor wastage rates by glass bottle decorators. Its fi rst objective is to apply a continuous improvement approach and reduce rates of wastage over the long term. The second
objective is to succeed in reducing this wastage and reintroduce bottles back into the manufacturing cycle.
In addition, the company has adopted procedures for recovering waste from subcontractors originating from surplus production or components of discontinued products. The recovered waste is then sorted for the purpose of their elimination.
The Group has also rationalized the bulk and secondary packaging (product boxes and perfume sets) in order to optimize the palletizing process, reduce the purchase of cardboard packaging materials and reduce volumes transported by decreasing the amount of empty space. The company henceforth requires a minimum number of palettes per truck.
Finally, cardboard packaging materials for testers are 100% recyclable.
5.2. Relations with not‑for‑profits and educational establishments
5.2.1. Donations and sponsorship initiatives
The Group contributes to volunteer‑sector organizations intervening in the areas of solidarity, childhood, combating exclusion and promoting health, by providing financial assistance to support their projects and initiatives.
Since 2018, through the Givaudan Foundation, Interparfums provided support to five schools for the management of their libraries.
In 2021, the program for the installation of school libraries continued in Sulawesi with a new library in Moramo (South East Sulawesi), benefiting 1,040 children and 66 school teachers, and providing a total of 5,180 books.
In 2021, funding of sponsorship initiatives amounted to €136,000.
5.2.2. Educational establishments
Keen to share its experience and train future generations, the Group is a regular contributor, particularly in the fields of marketing and finance, at different leading schools (business schools, Sciences Po, École supérieure de parfumerie…).
Interparfums also regularly welcomes interns within the Group as well as work‑study contract beneficiaries.
6. Non‑financial indicators
Even though the company, because of its size, is not required to produce a Non-Financial Statement, indicators are provided below that are monitored under its Social, Societal and Environmental strategy.
Indicators

2020
2021

Employer values

Employment

Permanent group employees

290
298

(Group scope)

Workforce by region

— France

213
214

— United States

59
65

— Asia

18
19

Workforce by type of contract

— Permanent

273
287

— Non-Permanent

17
11

(France)

Creation of a permanent position

3
5

Absenteeism

Related to occupational and commuting accidents

–
0.03%

(France)

Related to occupational illnesses

–
–

Related to maternity and paternity leave

2.01%
1.24%

Linked to illness

1.65%
1.23%

Total absenteeism rate

3.66%
2.47%

Number of calls to helpline and psychological support services

–
–

Training

Percentage of employees receiving training at least once a year

45%
50%

(France)

Number of training hours

668
2,603

Percentage of annual appraisal interviews conducted

100%
100%

Diversity

Breakdown for permanent staff

(France)

— Women

72%
73%

— Men

28%
27%

Breakdown for management positions

— Women

56%
51.5%

— Men

44%
48.5%

Professional gender equality index score

85/100
85/100

Number of trainees

8
13

Number of employees with disabilities

2
2

Retention

Average seniority

9.9 years
10.1 years

(France)

Turnover

7%
11%

Percentage of employees with access to the different
employee savings schemes with employer contributions

> 95%
> 95%

Expenses related to performance shares

€1.3 million
€1.4 million

Environmental

Packaging

% of FSC paperboard:

< 1%
1%

Quantity of cardboard used in packaging (tons/sales)

0.01
0.03

% of recycled glass PCR:

46.9%
46.1%

Quantity of glass used in packaging (tons/sales)

5.68
5.79

Quantity of plastic used in packaging (tons/sales)

2.32
2.08

Waste management

Quantity of hazardous waste (tons)

3.78
8.80

Quantity of nonhazardous waste (tons)

nd
29.2

Percentage of recovered waste (sorted waste)

nd
78%

CO2 emissions

Scope 1 and 2 GHG emissions generated (in t CO2 eq)

233
255

(France)

Scope 1 and 2 GHG emissions intensity (in g/€)

0.63
0.45

Energy consumption (in MWh)

1,246
1,846

Scope 3 outbound freight GHG emissions (in t CO2 eq)

nd
671

Scope 3 outbound freight GHG emissions intensity (in g/€)

nd
1.26

Relations with partners

Percentage of purchases from suppliers Ecovadis-assessed suppliers

68%
68%

Percentage of Ecovadis rated Gold + Platinum suppliers

54%
54%

Percentage of purchases from suppliers/relationships > 10 years

86%
86%

Percentage of purchases from suppliers located in Europe

80%
85%

Percentage of purchases from suppliers located in France

59%
62%
nd: not determined.